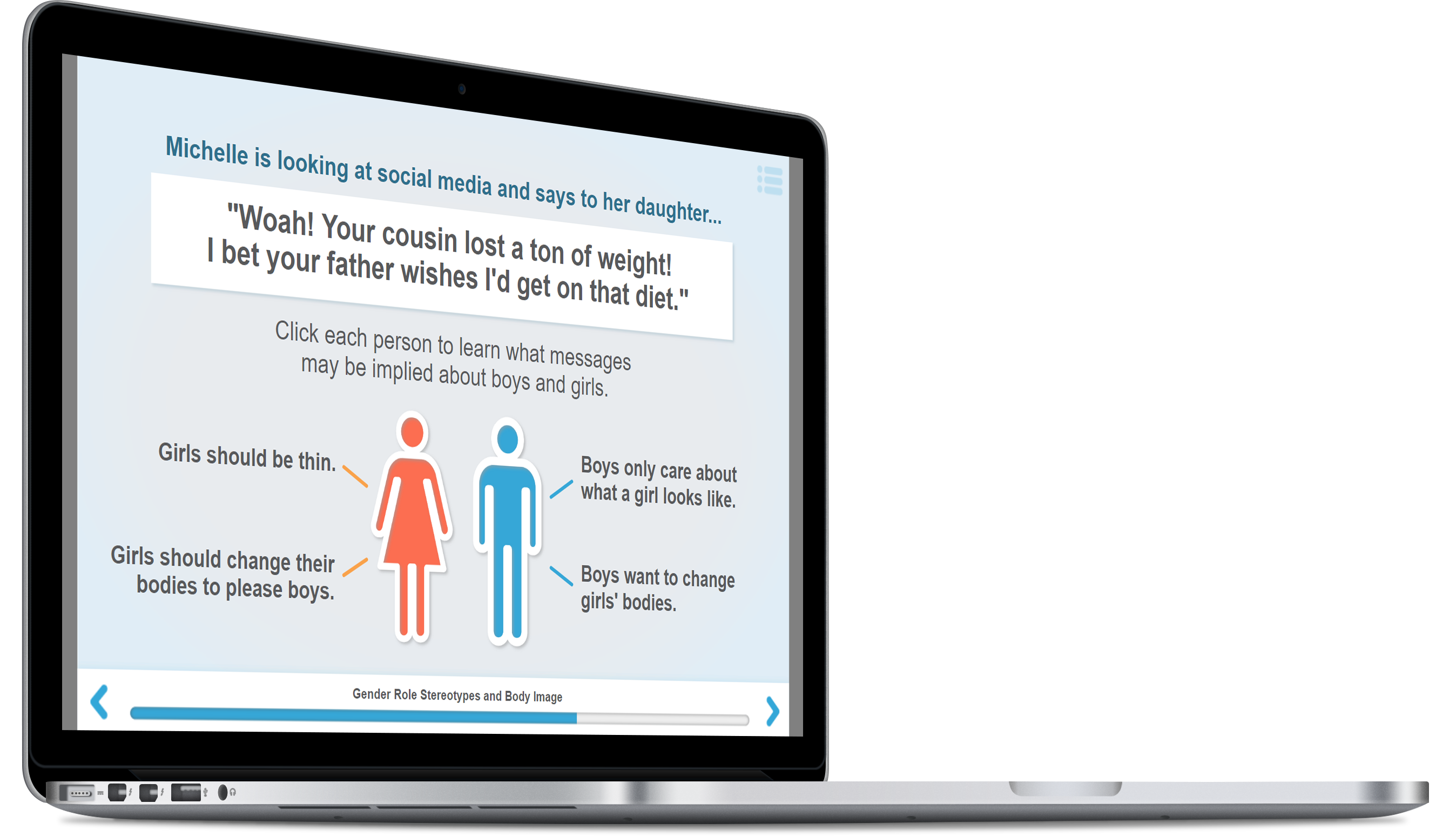 Who should use Media Aware Parent?
Media Aware Parent is designed for any parent who wants to empower their teen to make healthy decisions about relationships, sex, and media. A parent could be just starting to think about how to talk with their teen about things like consent, social media, and sexual health, or they could be looking for a way to take these conversations to the next level. Whatever the situation, Media Aware Parent's information, activities, and videos are designed to help all parents engage their teen in thoughtful discussion
Every parent is different, every child is different, and every parent-child relationship is different. That's why Media Aware Parent includes lots of different ideas and tips for talking with teens, videos of a variety of families sharing their experiences, and media examples that range from video games to fashion magazines to rap songs.
What's included with the program?
Media Aware Parent includes ten interactive sections for parents on topics like adolescent development, media literacy, gender roles, internet safety, and more. Each section includes factual information, proven techniques, and interactive activities to help parents practice talking with their teen. Parents can also decide to share many of these activities directly with their teen!
How long is the program?

Each of the five main sections can be completed in approximately 30 minutes, although they're self-paced and can be paused and resumed at any point. Afterwards, there are many additional resources –filmed interviews, additional written information, suggested activities – that can extend the experience of the program significantly.

How was it developed?

Media Aware Parent was developed by researchers with expertise in media influence, communication, and adolescent psychology, based on pilot studies, expert and parent feedback, evidence-based research, and a rigorous evaluation.
How do I share Media Aware Parent with my teen?

While using Media Aware Parent, you'll have the opportunity to share specific activities and videos with your teen. Everything you choose to share will be sent to a separate section of the program for your child (handily titled Media Aware Teen). You can email your child the link to this section, and monitor their progress from Media Aware Parent.
Who is this program for?

Media Aware Parent was evaluated with parents of 12-15 year olds. However, teens can also participate directly by doing any activities their parents have shared with them. Furthermore, there are a multitude of suggested family plans, videos, and other content that can be shared with the whole family.

How is the program delivered?

Follow the "buy now" link at the top of the page. Once your payment has been processed, you will receive an email with a link and login information to access the online program. Media Aware Parent is a flexible online portal, allowing you to jump in and out of the various sections.
What can I do if I need help with the program?
If you need any help getting through Media Aware Parent or have further questions, don't hesitate to email us at mediaaware@irtinc.us.